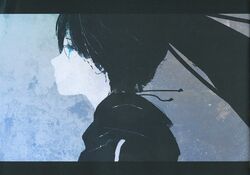 Black★Rock Shooter is a song composed by Ryo for Hatsune Miku (VOCALOID), with original character designs by
huke
. This song was first used in a PV, with
Black★Rock Shooter
as the core of the PV, which was well accepted by huke. Huke collaborated with Supercell, which led to the expansion of the
Black★Rock Shooter Universe
, receiving an animation adaption and other merchandises. This song was used as the opening theme for the TV anime of Black★Rock Shooter. It was the first anime theme song that was sung by a vocaloid,
Miku Hatsune
.
Due the song being based off of an original character not from Supercell, the meaning behind the song is based of huke's, the creator of B★RS, depiction of her. Black★Rock Shooter is a "person" within oneself, and was lost from the start of the song. She was nowhere to be found, and is in search of by the "narrator". Yet, as the song approaches the end of the song, the "narrator" realizes that B★RS had always been within herself. All she has to do is sing this song, and B★RS will be there too.
Community content is available under
CC-BY-SA
unless otherwise noted.