Perfect Day is a song composed by Ryo and sung by Yanagi Nagi. Its 4th song Today Is A Beautiful Day album. It has original animated music video. Illustrator of cover is Shirow Miwa.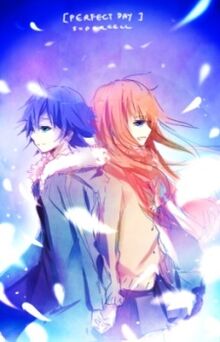 Romaji Lyrics Edit
Dare mo inai douro de ryoute wo hiroge aruita
Me wo tojite kara watashi wa sotto
Kokoro no naka de chiisana kake wo shitanda

Hakusen kara ochitara make
Mukashi konna no yatteta
Nanka natsukashii na

It's a perfect day
Hikoukigumo hashitte oikaketa
Itsuka te wa todoku tte  sou shinjiteita
Kedo sora wa amari ni tookatta kara
Chippoke na jibun ga kanashiku omoetanda  omoetanda

Moshimo ima inseki ga
Futte kiteru toshite mo
Watashi wa ki ga tsuku koto mo dekizu
Tengoku yuki de  amaikka  sore mo ari kana

Ano hi  chiisana bouken
Sukoshi tsuyoku nareta you na
Taisetsu na omoide

It's a perfect day
Hikoukigumo hashitte oikaketa
Kitto te wa todoku tte  dare mo shinjitenai kedo
Watashi shitterunda yo  datte hora mieru
Zettai tsukamaerunda kara

Ikidomari tobikoete hashiru
Dokomademo

It's such...  
such a perfect day
Tachidomatte sora wo aoidara
Aoi  aoi KANBASU ni
Hitosuji no kumo ga kakenuketa
Itsuka no sora to onaji
Dakara ima  mou ichido dake te wo nobashita  te wo nobashita
Community content is available under
CC-BY-SA
unless otherwise noted.