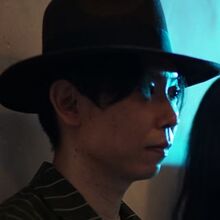 Ryo is the founder and Leader of Supercell. On December 7, 2007, Ryo submitted the song "Melt" (メルト, Meruto?) to the Nico Nico Douga video sharing website, and since then the video has been viewed over 5 million times. He also gained success for composing "When First Love Ends" (Illustrated by Shirow Miwa of Supercell), "World is Mine" (Illustrated by Redjuice of Supercell), and many more. He often took supercell to the monthly Oricon rank after the release of their newest albums.
After Nagi Yanagi went for a Solo Career, He and his fellow Supercell members held an audition to choose their next guest singer. Ryo once said that age and experience doesn't matter to be a supercell guest singer, he just wanted the singer to be passionate and ready to take on any genre of music that supercell is working on.
As if being a talented composer is not enough, he began to take part in Producing Tia, a talented young singer and songwriter.