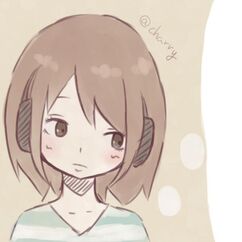 Tia is Supercell's guest singer for the song "Love Me Gimme" (ラブミーギミー Rabu me Gimi).
Unlike Chelly and Koeda, Tia was produced by ryo himself to sing "Love Me Gimme" for the ending song of the anime Wooser's Hand-to-Mouth-Life. She was also the singer for the song "Heart Realize" (ハート リアライズ), which was chosen to be the ending theme song of the anime Noragami (ノラガミ).
It is believed that Tia is a good friend of Chelly. She also sings for Nico Nico Douga song composers. Just like chelly and koeda, Tia loves to draw and she likes cats very much. She was born on 18 October, 1995 and she is now 25 years old.
Supercell Single
[
]
Heart Realize
The Glory Days
NIRUBANA
Deal with the devil
Tia Single
[
]
Tia Album
[
]
Links
[
]