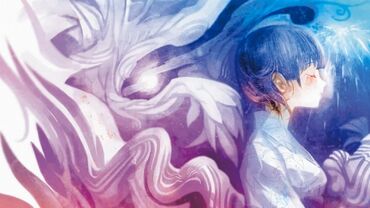 Utakata Hanabi (うたかた花火 lit. translation: "transient fireworks") is a song composed by Ryo and sung by the guest singer Nagi Yanagi/Gazelle. This song was one of the ending themes for the anime Naruto-Shippuden, and also one of few Supercell songs used for an anime OP/ED theme purpose before Nagi Yanagi left the role of guest singer.
Lyrics
[
]
Romanised Japanese:
Afureru hito de nigiwau hachigatsu matsu no omatsuri
Yukata wo kite geta mo haite
Karan koron oto wo tateru
Fui ni agatta hanabi wo futari de miageta toki
Muchuu de miteru kimi no kao wo
Sotto nusumi mita no Kimi no koto kirai ni naretara ii no ni
Kyou mitai na hi ni wa kitto
Mata omoidashite shimau yo Konna kimochi shiranakya yokatta
Mou nidoto aeru koto mo nai no ni
Aitai… Aitainda
Ima demo omou kimi ga ita ano natsu no hi wo Sukoshi tsukarete futari michibata ni koshikake tara
Tooku kikoeru ohayashi no ne hyururira nari hibiku
Yozora ni saita ookina ookina nishiki kamuro
Mou sukoshi de natsu ga owaru
Futto setsunaku naru… Sakasama no HAATO ga uchi agatteta
Ahaha tte warai atte
Suki da yo tte KISU wo shita
Mou wasureyou kimi no koto zenbu
Konna ni mo kanashikute
Doushite deatte shimattandarou
Me wo tojireba
Ima mo kimi ga soko ni iru you de
Amai toiki binetsu wo
Obiru watashi wa kimi ni koishita
Sono koe ni Ah.. Sono hitomi ni kizukeba toki wa
Sugi satteku no ni
Mada kimi no omokage wo sagashite Hitorikiri de miageru hanabi ni
Kokoro ga chikuri to shita Mou sugu sugi no kisetsu ga
Yatte kuru yo Kimi to miteta utakata hanabi
Ima demo omou
Ano natsu no hi wo
Meaning
[
]
The story of the lyrics revolves around a girl, now grown up, who reminisces of a summer day in the past. She went together with the boy she was in love with to a summer festival. While the fireworks went into the air, she stole a glance at the boy's enraptured face as he saw the fireworks with joy. As they were resting on the roadside laughing and enjoying the fireworks, she was able to present her feelings saying "I love you" and they kissed. But that was the last day she ever saw him, never to meet him again. A transient moment with him it was for her, one that she feels she regrets.